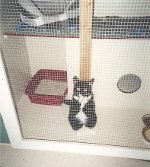 Please contact us by phone at 781-585-2150,
or by email at: catscradle@capecod.net
The Cat's Cradle is located at:
34 Fairview St
Middleboro, MA 02346
Pre-Reservation Visits
Before making a reservation, we cordially invite you to visit us during regular business hours. We suggest you call ahead to ensure we are available for you. Specific appointments aren't necessary.
We encourage everyone to personally visit any boarding (vacation) spot before bringing your kitty. We're delighted to show you around The Cat's Cradle and introduce you to any guests that might be staying with us when you come.