Nestled in seven acres of a peaceful country town, The Cat's Cradle is a favorite vacation spot – among cats only of course! We are conveniently located in Middleboro MA near Upper Cape Cod and just South of Boston. Since 1994, the Cat's Cradle has been providing the "Ultimate Vacation for Cats" of all ages and lifestyles. This isn't your normal boarding kennel or cat sitting service. We pamper, cuddle, and soothe. Every need is met, every wish fulfilled.
Imagine the purr-fect feline resort…a low-stress, relaxing atmosphere, coupled with activities and entertainment…that's The Cat's Cradle! We strive to make each vacation a pleasant and memorable experience – for both guests and owners alike!
Welcome to The Cat's Cradle – we hope you enjoy your stay!
Our Mission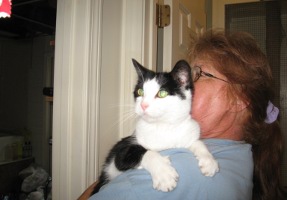 We believe that every cat deserves a purr-fect vacation, free from barking dogs and small cages. They need gentle hands to stroke them, kind voices to reassure them, and a stress-free atmosphere to relax in.
We also believe that every owner deserves to enjoy their own vacation free from guilt and worry!At The Cat's Cradle, we tailor our care to each individual. We strive to make every guest feel as comfortable as they do at home.